Since the Maastricht Treaty, there is a European citizenship defining a series of rights. These have been completed by the Charter of Fundamental Rights of the EU, which entered into force in 2009. Besides social rights and classical freedoms, citizenship most importantly includes political rights. This means rights to participate in the political process, for example by voting your Member of European Parliament, to address a petition to the Parliament or the very new possibility to sign a European Citizens Initiative. So these rights are about concrete democratic practices.
Modern democracy is founded on the force of the better argument and not of the force of violence. Therefore discussion and the exchange of arguments are crucial. Discussions precede every step of a political process: when you bring up a new idea, before you decide if and how you realise a project, before you vote a candidate for a public office and when you hold politicians accountable for their actions. If you want to convince others and win a majority, you have to put arguments on the table.
As most other things in life, democratic practices can be learned. By getting familiar with them, young people like you grow in their role as citizens. But what does it mean to you? Get used to ask questions. Learn to listen to the other. Participate in political discussions. It's about learning by doing. And by the time you will become more self-confident. You have a voice, so use it! Become an active citizen! This is my wish in general. I encourage you also specifically to practice in the European context, because the future of Europe depends on its future citizens. The participation in the activities of "My Europe" is a first valuable step in this direction.
As European Commissioner, I initiated the Citizens' Dialogues. We brought the debate on Europe to more than 50 cities all over Europe. We not just invited people to ask us their questions. We also listened to them. And we expect them to tell us what they want, what they wish. It was the possibility of a face-to-face communication. I learned a lot during these dialogues. Therefore this direct contact between Europeans and all political decision-makers should continue. I hope you will have the opportunity to participate in this new forum of democratic practice one day. Until then: Become an active citizen! Europe needs you!
About the author: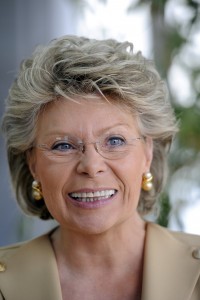 Viviane Reding is a Member of European Parliament and the European patron of the "My Europe" Initiative. From 1999 to 2014, she served in the European Commission, from 2010 on as Vice-President. more…
PS: Viviane Reding will gladly answer all questions you might have. However, due to time constraints, she cannot do so regularly. We will collect your questions and comments that have been submitted until and including October 20, 2014, and will pass them on to her. For all questions submitted after that, we cannot guarantee an answer.