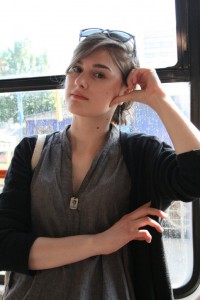 Anathea (19) participated in the "My Europe" workshop in Bucharest, Romania, in 2011. Currently she´s taking a gap year from her studies. She´s interested in culture, history and film studies. One day she wants to become a Cultural Attaché.
For me, Europe is…
…an on-going "project".
If you could, what would be the first thing you would change in Europe?
I don't know, that's not something I am thinking of every day, but I'd probably rebuild Europe, politically and economically.
On a more realistic note, I'd probably sign all countries into Schengen and the Eurozone. I'd strengthen the security and create a virtual information service. I'd make undergraduate studies free of charge. I'd introduce a financial education course in high school and I'd make it mandatory. I'd also enforce a mandatory program for those who have debts so they'll learn how to sort out their lives in order to pay off those debts. I'd also create a program to use the elderly people in teaching job-related material ( as the Employment group suggested)… Small steps…
You can find all her contributions to Spotlight Europe here