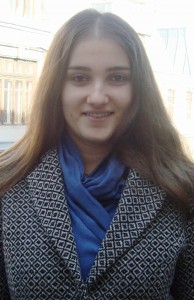 Elena (20) participated in our workshop in Bucharest, Romania, in 2011. At the moment she is a student of Computer Science at University of Bucharest. In the future she would like to become a software engineer. In her free time she likes various forms of entertainment and studying foreign languages.
For me, Europe is…
…my home, the place of my hopes, of my dreams and of my best wishes. Europe is also the family we, its people, create and the family we belong to.
If you could, what would be the first thing you would change in Europe?
I would like to see a united Europe, a Europe which stands up for itself and for all its diversity, which is why I would have the European countries interact more with each other on a human level in order for them to obtain a better understanding of one another and of their issues. Furthermore, I would like Europe to be more uniform in areas such as health care, education and quality of life.
Activities for the Youth Council:
Member of the Working Group on Education
You can find all her contributions to Spotlight Europe here