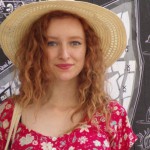 Feargha Clear Keena (18) participated in the "My Europe" Workshop in Dublin in 2014. She goes to school at Mount Temple Comprehensive and enjoys playing music, writing songs, and learning foreign languages.
For me, Europe is…
…an amazing collection of art and culture and history that I'm lucky enough to be able to witness and be a part of.
If she could, what would be the first thing she would change in Europe?
I would like Europe to be less of a "fortress", and to find a way to be more open and welcoming to people from other continents who want to live, work and be part of life here.
Activities for the Youth Council for the Future:
Member of the Working Group on Gender Equality
(since 2015)
Secretary (2015-2016)