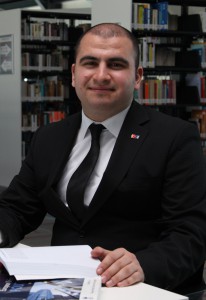 Hacı Mehmet Boyraz (born in 1993 in Turkey) studies International Relations with Political Science and Public Administration as a double-major student at Gediz University in İzmir. He is mainly interested in the relationship between Turkey and the European Union, African politics, Conflict resolution and Turkish Foreign Policy. Related to his focus areas, he has written many papers and dossiers published by different institutions.
In the past he has participated in the Model European Union in Strasbourg, France; and he was a research assistant at Leeds Beckett University from June to September 2014 with a scholarship of the EU Commission. Hacı is an active writer and columnist on many different magazines and journals.
In his spare time he enjoys reading books, travelling abroad, and volunteering. You can find more information and many of his publications here. All contributions to Spotlight Europe can be accessed via this link.