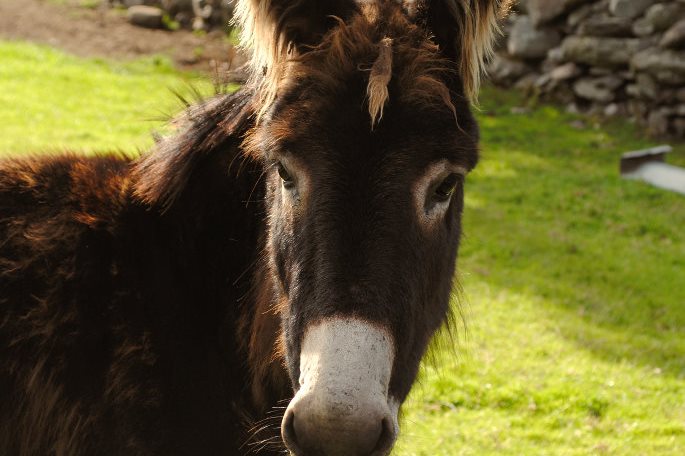 Viktoria (25) and Felix (26) take you on a trip to a social project in Ireland – the Donkey Sanctuary. With their initiative 'One Social Europe', they travelled Europe in their van for six months and presented charitable initiatives on their website. The two young adults drove 17,212 kilometres in 172 days and visited 21 countries. Among the projects they discovered are fair trade campaigns, activities for elderly people, youth organisations and volunteer opportunities in rural areas. Spotlight Europe had a tough job to pick just one project, but in the end we decided to take you the place where donkeys find a new home in County Cork, Ireland.
Maureen takes a look through the fence with her big brown eyes. Cautiously her flour-white muzzle comes closer and she touches us gently, calls for attention and cuddles. Maureen is small, brown and has quite long ears. She is one of over 100 donkeys in the Donkey Sanctuary in Liscarroll and we like her immediately.
Here in the sanctuary old, sick, neglected or simply not wanted donkeys find a new home – or a transition home until they can move into a permanent new one. Overall, more than 4,000 donkeys were rescued from bad posture, nursed and brought to a new home by the establishment.
Maureen can surely expect a new donkey-friendly home, which she will share with at least one other donkey. The animals are herd animals, an exchange of individual animals is not possible. If new donkeys come into the system, they often bring their "partner-animals", such as cats, sheep or horses with them. Donkeys have a high need for social contacts to other animal partners.
But not all residents of the large, beautiful area will leave the farm one day. Some donkeys remain all their life on the farm – partly because they have experienced so much that it would not be possible of sending them into a new home, partly because they were raised by the employees of the farm with the bottle and you do not want these animals to be forced leaving their home, if it is not absolutely necessary.
One of these donkeys is Richie. Richie is large, brown-spotted white and has beautiful black-brown eyes, which look friendly at everyone in the area. His mother died of blood poisoning, when he was 10 days old. Since that day, he has been living at the station, first as a bottle-fed baby, now as a fully integrated member of a group of quieter animals.
If you want to learn more about the Donkey Sanctuary there is a lot of interesting information on the website of the sanctuary.
About the authors: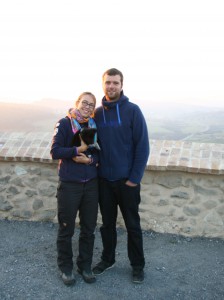 Viktoria (25) and Felix (26) are inspired by the idea of Europe: peaceful coexistence of different countries and cultures, the cooperation of the European countries, the freedom to travel – to experience Europe as a social continent.
With the project 'One Social Europe', their goal was to inform how Europeans are involved in social or non-profit projects and how they bring their country, their society or Europe further – on the way to become one social europe.