What will be the big challenges regarding climate-change refugees in Europe in the next 50 years?
Nowadays, climate change is one of the biggest problems the world must face. What was considered as an incremental issue two decades ago, is already starting to show its numerous negative effects both on nature and on society. The question remains if we will be able to stop it in time and what the consequences will be for Europe if we don't.
Nowadays, climate change is one of the biggest problems the world must face.
 Temperatures around the globe have been rising for decades thanks to our industrialized society and partly thanks to our recklessness when it comes to using our resources. Entire forests have been cut down, seas and oceans polluted and species erased. None of these, however, come even close to the dangerous effects of the polar ice caps melting. Not only will that have a tremendous impact on wildlife and ocean levels, but it will also cause the ocean-levels to rise. This in turn will make huge parts of our planet uninhabitable land. Cities, such as New York, Tokyo or even Amsterdam might become underwater relics in the not-so-distant future. All of this will become fact, should we not stop it while still possible.
Furthermore, should we not succeed in convincing our leaders and people that the world is really in danger and that destruction is inevitable – there will be significant consequences for the world and for Europe specifically. Our continent will be facing serious difficulties thanks to its good geographical position with the other, poorer, continents. Coastal cities disappearing will be only one of the obstacles we will be facing. Citizens of poorer countries, mostly in Africa and Asia, where even now wars are being held over water and inhabitable land, will tend to migrate to Europe in the same manner as political refugees are coming now. The only difference – wars end and their effects are reversible whereas the consequences of climate change are irreversible. Our already crowded land will become even more crowded, which resultantly will make people compete increasingly for jobs. Owing to all those factors, extreme political ideologies will make their ways back into our society and hate, racism, intolerance will become present. In turn this could lead to a rebellion of the oppressed minorities and result in a war.
The solution to all these problems lies within our own hands, change needs to happen and it needs to be soon.
 The solution to all these problems lies within our own hands, change needs to happen and it needs to be soon. Difficult as it may sound, it is fairly simple. First, we need to think for ourselves on the question whether we want big money and financial interests to influence our choice and our thinking or decades worth of scientific research and proof. Second, we need to make sure we elect people who think like us, who are not controlled by personal interests or corporations. Third, we must stand united against the threat of climate change by helping protect the environment, helping people who live in affected areas, protesting corrupt politicians and companies who pollute the environment on purpose for their own personal gain. If we manage to do all these baby steps, and every one of us stands together, we can indeed make Europe, our continent, our country a great place to live for decades to come and live the life we want, without fear of not ever being able to visit a certain city or even an entire country.
 As a conclusion, I think combating climate change should be both a personal and public priority. Even though it needs to start as small steps made by us, it should end up as steps in the right direction by our governments and the EU, to truly protect us from experiencing this horrifying picture and in order to see a better Europe in 50 years than the one we have now.
About the author: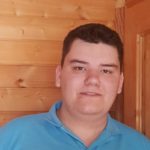 Adrian Murat (17) took part in the My Europe Workshop in Sofia on 28-29 November 2016 and won the second prize of the writing competition.